In our "Selling" series our local real estate experts give you insights and information about some of New Hampshire's most popular towns. This week we will be Selling Londonderry.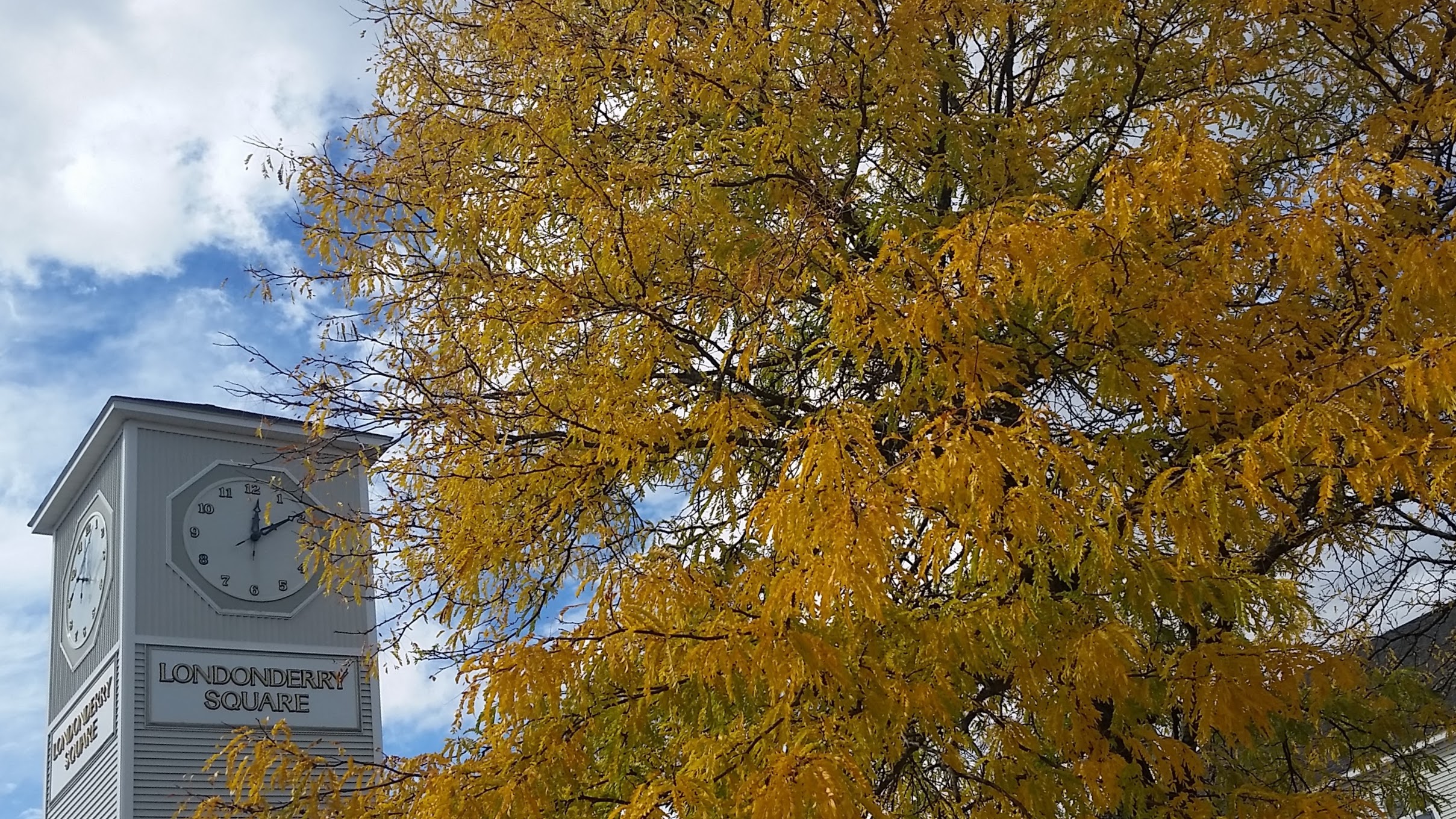 Londonderry Town Square (Photo by Val Cloutier)
In our last edition of Selling, we covered the tight-knit community in Hollis, NH. This week our agents Laura Scholfield and Val Cloutier will be taking a look at the conveniently located, farming hub of Londonderry, NH.


Agri-Culture
Londonderry, New Hampshire is uniquely capable of offering its residences that peaceful rural environment along with quick access to bustling cities and exciting New Hampshire attractions.
Home to the notable Stonyfield Farm yogurt makers and the popular 603 Brewery, Londonderry provides stable roots for businesses to thrive. Stonyfield opened over 35 years ago with a single farm in New Hampshire and has now grown to have an over 100 farm network and 200,000 acres of farmland. The 603 Brewery was founded in 2012 with just 3 team members and has quickly become a New Hampshire favorite, with their brews being available in restaurants and stores across the state. Each of these companies are great examples of homegrown success stories and the ripe business opportunities available in Londonderry.
There are several quaint family-run farms scattered around Londonderry that pride themselves on providing fresh, carefully grown produce. Moose Hill Orchards, a town staple, stands proudly as New Hampshire's oldest single family-run farm. Within Moose Hill Orchards you will find the award-winning Mack's Apples, known for their traditional "Pick-Your-Own" experience. Sunnycrest Farm and Elwood Orchards are two more beautiful agricultural cornerstones to the town of Londonderry.

Moose Hill Orchards (Photo by Val Cloutier)
Originally known as Nutfield, the town of Londonderry is rich in history. With happenings as far back as 1718, credit can be given to a group of Irish settlers for laying the foundation of this community. Renamed after the settlor's former home in Ireland, Nutfield became Londonderry, and the town continued to prosper.
The Golden Triangle
By Val Cloutier
Nestled in the center of the 'golden triangle' of the retail districts of Salem, Manchester and Nashua, and conveniently located between exits 4 & 5 on I-93, the town of Londonderry has long been recognized as a desirable community that is rich in agriculture, has highly regarded schools and just enough retail for its residents needs. With plenty of shopping choices that include three large grocery stores, three full-service pharmacies, home-improvement and home décor stores, and a variety of independently-owned restaurants, micro-breweries, bakeries and coffee shops, as well as fast-food (franchise), Londonderry has also become a destination town for residents of other communities.
Many area residents travel to jobs in Massachusetts, so having easy access to Route 93 is a key factor to the town's growth. Quick access to the Manchester-Boston Airport (much of which is located within the town of Londonderry) and bus access to Boston's South Station and Logan Airport give additional flexibility to travelers, with large Park & Ride car lots at both Exits 4 and 5.
Family-owned farms & orchards contribute to the small-town feel in Londonderry, with each farm having its own unique offerings. Sunny Crest Farm offers seasonal pick-your-own strawberries, blueberries & peaches, as well as a year-round farm stand and bakery. Elwood Orchards has fresh produce of all kinds, plus pick-your-own apples, and a fabulous corn maze every September/October. And Mack's Apples, with several pick-your-own orchards throughout town, has a large farm stand & bakery – and in summer months, is Londonderry's only ice cream stand.

Mack's Apples (Photo by Val Cloutier)
Each year, everyone in town looks forward to Old Home Days! A family orientated atmosphere makes this 5-day event a special home-town celebration. Old Homes Days takes place on the 3rd week of August each year and provides good old-fashioned fun for all ages. Events include band concerts, kidz and movie nights, a fireworks display, a 5k road race, a baby contest, a singing contest, children's games, tethered hot-air balloon rides, and of course a parade.
With one of the most desirable school systems in southern NH, the Londonderry School District features a dedicated pre-K/Kindergarten building, three elementary schools, and it's own middle and high schools. The low student-teacher ratio of 13 to 1 ensures that students get the assistance and support that they need to succeed.
New Hampshire's most well-traveled high school marching band is the Londonderry Lancer Marching Band & Colorguard. Their crisp red, white & blue uniforms are instantly recognized wherever they appear, and their travel highlights include multiple appearances in the Tournament of Roses Parade (1992, 1997, 2004, 2011 & 2018), two Presidential Inauguration parades, and a 2008 visit to Beijing, China. They also travel each year to NYC St. Patrick's Day Parade and holiday parades all over New England. The Band averages 200+ members each year, and while being in the band is not a requirement, it's no surprise that many Londonderry students look forward to one day being a Marching Lancer, thanks to a strong music education that starts in elementary school.
In recent years, the town has begun a cycle of growth that is unprecedented in New Hampshire. Woodmont Commons, a 600+ acre mixed-use development, is projected to add a tremendous amount of retail and office space, as well as a hotel, hospital and more than 1000 residential units, all created in a walkable and pedestrian-friendly environment.
Londonderry continues to be a growing community that prides itself on combining country living with modern convenience.
The Londonderry Real Estate Market
Let's take a look at how the Londonderry real estate market is shaping up so far this year. Single-Family home sale prices in Londonderry have decreased by 7% compared to the same time period in 2018, with active inventory decreasing by 28%. In addition, the total number of home sales have also decreased by 34%.
Condos in Londonderry followed suit by seeing both their active inventory (-20%) and total sales (-10%) decline when compared to 2018. But bucked they trend by seeing their sale prices rise by 10%.
For the most part, the Londonderry real estate market has stayed consistent with trends from the state of New Hampshire as a whole, with the decrease in single-family home prices being the only current deviation.
Median Sale Price For Single-Family Homes – $338,500
Median Sale Price For Condos – $197,650
YTD data as of May 7th, 2019. Data from NEREN MLS
We hope you enjoyed this edition of "Selling." For more information on the Londonderry real estate market, please don't hesitate to reach out to one of our local real estate experts.
Where should we "Sell" next? Let us know on Facebook or Twitter, and maybe your town will be featured in an upcoming article!